'Two Myanmar protesters shot dead in police crackdown as police have shot and killed two protesters, sustaining a sweeping crackdown for a second day in a bid to end weeks of pro-democracy demonstrations'
Posted 4h ago, updated 3h ago
Police opened fire in the southern town of Dawei, killing one and wounding several others, according to politician Kyaw Min Htike.
The Dawei Watch media outlet said at least one person was killed and more than a dozen wounded.
Police also fired in the main city of Yangon and one man brought to a hospital with a bullet wound in the chest had died, said a staff doctor who asked not to be identified.
Myanmar has been in chaos for a month since the army seized power and detained elected government leader Aung San Suu Kyi on February 1, alleging fraud in a November election her party won in a landslide.
The coup, which stalled Myanmar's progress toward democracy after nearly 50 years of military rule, has drawn condemnation from Western countries, with some imposing limited sanctions.
Police also threw stun grenades, used tear gas and fired into the air, witnesses said.
"Police threw stun grenades at us," said 29-year-old protester Myint Myat.
"We had to run and hide but I'll get out again because today is very important. If all of us get out, they can't win."
'Trying to instil fear'
Youth activist Esther Ze Naw said people were battling to overcome the fear of the military they had lived with for so long.
"This fear will only grow if we keep living with it and the people who are creating the fear know that," she said.
"It's obvious they're trying to instil fear in us by making us run and hide … we can't accept that," she said.
While junta leader General Min Aung Hlaing has said authorities have been using minimal force, at least three protesters have died.
The army said a policeman had been killed in the unrest.
State-run MRTV television said more than 470 people had been arrested.
It said police had given warnings before using stun grenades to disperse crowds.
Several journalists were among those detained, their media organisations and colleagues said.
The weekend's violence came after Myanmar's Ambassador Kyaw Moe Tun told the UN General Assembly he was speaking on behalf of Ms Suu Kyi's government and appealed for help to end the coup.
MRTV television said he had been fired in accordance with civil service rules because he had "betrayed the country" and "abused the power and responsibilities of an ambassador".
However, the UN has not officially recognised the junta as Myanmar's new government.
'Fight back as long as I can'
The ambassador vowed to continue his resistance, despite losing his job.
"I decided to fight back as long as I can," Kyaw Moe Tun said in New York.
UN Special Rapporteur Tom Andrews said he was overwhelmed by the ambassador's "remarkable act of courage".Loading
He said on Twitter: "It's time for the world to answer that courageous call with action."
Myanmar's generals have promised to hold a new election but have yet to set a date.
Ms Suu Kyi's party and supporters said the result of the November vote must be respected.
The 75-year-old spent nearly 15 years under house arrest during military rule.
She faces charges of illegally importing six walkie-talkie radios and of violating a natural disaster law by breaching coronavirus protocols.
The next hearing in her case is set for Monday.
Myanmar coup: Casualties rise as police step up crackdown
17 minutes ago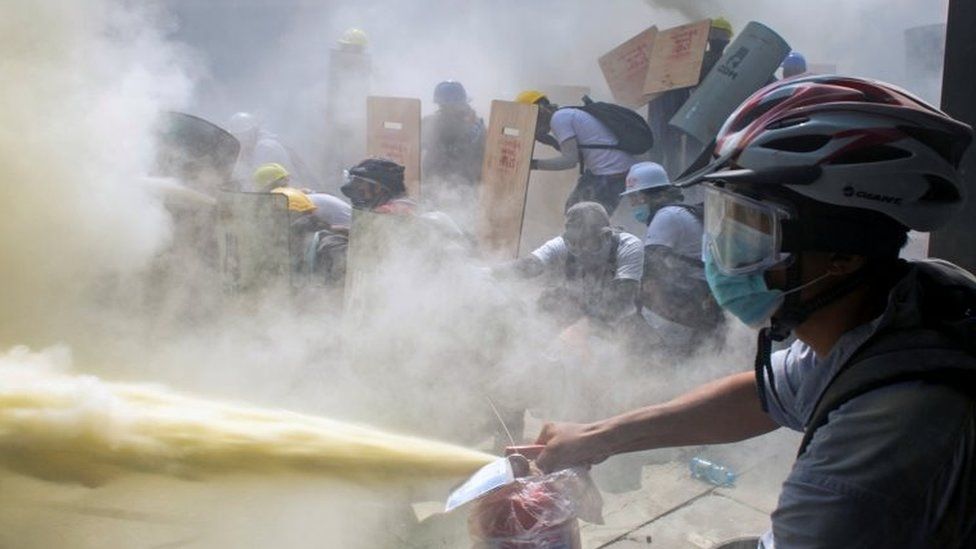 A violent crackdown on anti-coup protesters in Myanmar intensified on Sunday with police using live rounds, rubber bullets and tear gas.
Huge protests in cities such as Yangon, Mandalay and Dawei have continued despite the police response.
There are reports of fatalities but the numbers are difficult to confirm.
The country has been rocked by protests since top government leaders, including Aung San Suu Kyi, were overthrown and detained by the army on 1 February.
Social media footage from Sunday showed protesters running away as police charged at them, makeshift roadblocks being erected, and several people being led away covered in blood.
The police crackdown, which began in earnest on Saturday, was extended as coup leaders sought to quash a largely peaceful civil disobedience campaign that has shown no sign of ending.
What is happening on the ground?
There have been varying accounts of death tolls. Medics and officials told AFP there had been at least six fatalities, while Reuters quoted similar sources putting the number at seven. Either would make Sunday the deadliest day of the protests since the coup began.
The figures in unverified social media reports were much higher, in some cases more than 20.
In the largest city, Yangon, police fired bullets after stun grenades and tear gas failed to disperse protesters. Social media images showed blood on the streets as people were helped away by fellow protesters.
A doctor told Reuters one man had died in hospital with a bullet wound to the chest.
The protesters remained defiant, with some setting up barricades.
"If they push us, we'll rise. If they attack us, we'll defend. We'll never kneel down to the military boots," protester Nyan Win Shein told Reuters.
Another, Amy Kyaw, told AFP: "Police started shooting just as we arrived. They didn't say a word of warning. Some got injured and some teachers are still hiding in neighbours' houses."
Some protesters were herded away in police vans.
In the south-eastern city of Dawei, security forces moved to break up a rally.
ReutersMedical staff carry away a wounded protester in Dawei
There are reports of live rounds being used. The Dawei Watch media outlet said at least one person was killed and more than a dozen wounded. One emergency worker told Reuters there were three deaths, with many more casualties feared.
Police were also cracking down on a large rally in Mandalay, where police used water cannon and fired into the air. The Myanmar Now media outlet said two people had died in the city.
Protests have continued elsewhere, including the north-eastern town of Lashio.
The number of arrests since the protests began has not been confirmed. The Assistance Association for Political Prisoners monitoring group has put the figure at 850, but hundreds more appear to have been detained this weekend.
Where is Aung San Suu Kyi?
Myanmar's civilian leader has not been seen in public since she was detained in the capital Nay Pyi Taw as the coup began.
Her supporters and many in the international community have demanded her release and the restoration of the November election result that saw her National League for Democracy party win a landslide.
Ms Suu Kyi is scheduled to face court proceedings on Monday on charges of possessing unregistered walkie-talkies and violating coronavirus rules. But her lawyer says he has been unable to speak to her.
Military leaders justified the seizure of power by alleging widespread fraud in the elections, claims dismissed by the electoral committee.
The coup has been widely condemned outside Myanmar, prompting sanctions against the military and other punitive moves.
Myanmar – the basics
Myanmar, also known as Burma, became independent from Britain in 1948. For much of its modern history it has been under military rule
Restrictions began loosening from 2010 onwards, leading to free elections in 2015 and the installation of a government led by veteran opposition leader Aung San Suu Kyi the following year
In 2017, militants from the Rohingya ethnic group attacked police posts, and Myanmar's army and local Buddhist mobs responded with a deadly crackdown, reportedly killing thousands of Rohingya. More than half a million Rohingya fled across the border into Bangladesh, and the UN later called it a "textbook example of ethnic cleansing"
Reuters/ABC/BBC/AFP
#AceNewsDesk report ………..Published: Feb.28: 2021:
Editor says #AceNewsDesk reports by https://t.me/acenewsdaily and all our posts, also links can be found at here for Twitter and Live Feeds https://acenewsroom.wordpress.com/ and thanks for following as always appreciate every like, reblog or retweet and free help and guidance tips on your PC software or need help & guidance from our experts AcePCHelp.WordPress.Com