#AceNewsReport – May.23: KUNMING/XINING – Three people were killed and dozens injured after a series of earthquakes rattled southwest China's Yunnan province and northwestern Qinghai province:
#Earthquakes 6.4 – 7.3 – Magnitude have left at least three dead as strong quakes hit Yunnan, Qinghai: At least 28 hurt in Yunnan earthquake The four earthquakes measuring over 5.0-magnitude struck Yangbi Yi Autonomous County in Dali Bai Autonomous Prefecture of Yunnan from 9 pm to 11 pm Friday Beijing time: The tremors were felt in all 12 counties and cities of the prefecture.
A damaged wall of a house in Yangbi Yi Autonomous County in southwest China's Yunnan province, May 22, 2021. (PHOTO/XINHUA)
Hours later at 2:04 am Saturday, a 7.4-magnitude earthquake jolted Maduo county of Golog Tibetan Autonomous Prefecture, according to the China Earthquake Networks Center (CENC). The county is located over 4,000 meters above sea level.
The two locations are about 2,000 km apart.
In Yunnan, by 6 am Saturday, three people were killed and 28 others injured, said Li Zepeng, deputy head of the prefecture, at a press briefing on Saturday morning, adding that a large number of houses and facilities were damaged in the areas hit by the quake.
A police office joins the rescue effort after a 5.6-magnitude earthquake jolted Yangbi Yi autonomous county in Southwest China's Yunnan province, on May 21, 2021. (PHOTO/XINHUA) Yunnan quake injures 4, damages homes
Soon after the earthquake, China's Ministry of Emergency Management (MEM) and the Yunnan provincial disaster reduction committee office initiated emergency response and dispatched rescuers.
The prefecture of Dali also set up an earthquake relief headquarters, sending nine teams to nine villages and towns to carry out relief work.
Yangbi has arranged 380 centralized settlement sites for over 85,000 affected people
So far, over 16,200 rescuers and relief materials including tents and daily necessities have been dispatched to the quake area. Over 22 million yuan (about US$3.4 million) has been allocated for emergency relief.
Yangbi has arranged 380 centralized settlement sites for over 85,000 affected people.
In Qinghai province, eight people suffered slight injuries, local rescuers said. Roads and houses were damaged.
Strong tremors were felt in provincial capital Xining, which is 385 km away from the county seat of Maduo.
Students of a high school take refuge on the playground in Maqin county of Golog Tibetan Autonomous Prefecture, northwest China's Qinghai province following a strong earthquake, May 22, 2021. (PHOTO/XINHUA)
Work teams and rescue forces have been dispatched to the quake-hit area.
The earthquake occurred in the sparsely-populated pastoral areas, where brick and wood bungalows are mostly scattered, rescuers said.
At an average altitude of 4,200 meters, Maduo county is located at the source region of the Yellow River with a great number of rivers and lakes.
In the past five years, about 25 earthquakes of magnitude 3 or above have occurred within 200 kilometers of the epicenter, the largest of which occurred Saturday, CENC data showed.
CENC experts said the two provinces are unlikely to see earthquakes of above 7-magnitude in the coming days.
Based on comprehensive analysis of regional tectonic characteristics, historical earthquake activities, sequence characteristics and geophysical observation, the experts said that the possibility for an earthquake of above 7-magnitude is very low in the near future, but aftershocks of 5 to 6 magnitude are possible.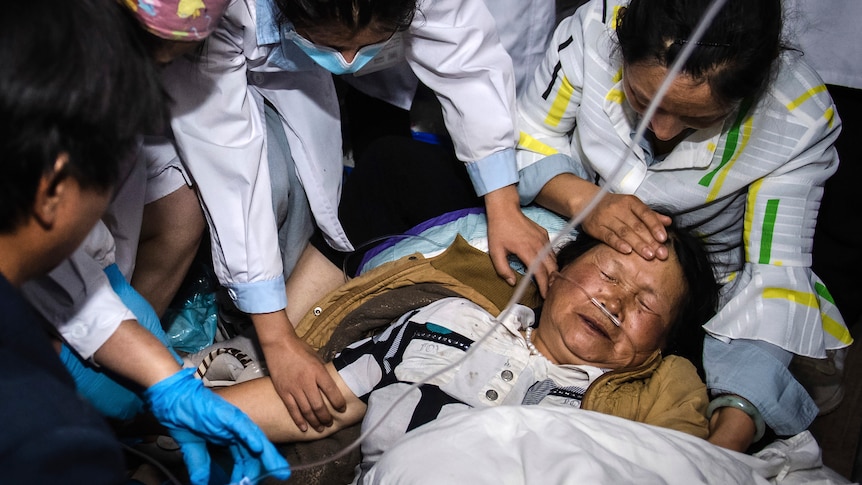 A strong, shallow earthquake has shaken south-west China, killing at least three people and injuring more than two dozen, while a separate 7.3-magnitude quake in the nation's centre has brought down a bridge and caused other damage.
The second earthquake hit the southern part of Qinghai province, about 1,000 kilometres north of the first quake in Yunnan province.
US Geological Survey geophysicist Jonathan Tytell said the two quakes were not related.
The Qinghai tremor on Saturday was followed by 453 aftershocks throughout the early morning into midday, according to the official People's Daily newspaper. At least eight people were injured.
While no deaths have been reported so far in Qinghai province, the tremors tore up roads and bridges, with one collapsing completely and breaking into segments.
The Yunnan province seismological bureau gave the magnitude of the Friday night quake as 6.4 and said it struck eight kilometres below the surface north-west of the city of Dali.
Shallow quakes often cause more damage, especially in populated areas.
The earthquake caused strong shaking around Dali, but Chinese news reports showed relatively little damage.
Three people died and 28 were injured, the Yunan province's publicity department said on Saturday.
Relief efforts were underway, with the provincial authorities sending emergency rations and tents to the affected areas.
In Qinghai, authorities set up temporary safety shelters due to continuous aftershocks.
Last year, a magnitude-5 earthquake in Yunnan killed four people and injured 23.
China's worst earthquake in recent years struck the mountainous western portion of Sichuan province to the north of Yunnan in 2008, killing nearly 90,000 people.
China Asia Daily/AP/ABC/
#AceNewsDesk report …Published: May.23: 2021:
Editor says #AceNewsDesk reports by https://t.me/acenewsdaily and all our posts, also links can be found at here for Twitter and Live Feeds https://acenewsroom.wordpress.com/ and thanks for following as always appreciate every like, reblog or retweet and free help and guidance tips on your PC software or need help & guidance from our experts AcePCHelp.WordPress.Com