#AceNewsReport – June.15: It is seen as an important step towards the UK joining a wider Asia Pacific free-trade agreement:
TRADE DEAL: UK Prime Minister Boris Johnson and Australian PM Scott Morrison agreed the deal over dinner at Downing Street: This is the first trade deal to be negotiated from scratch since the UK left the EU.
Kindness & LoveX❤️ says Hands across the world come together as one trade deal lets do honest and honourable business Amen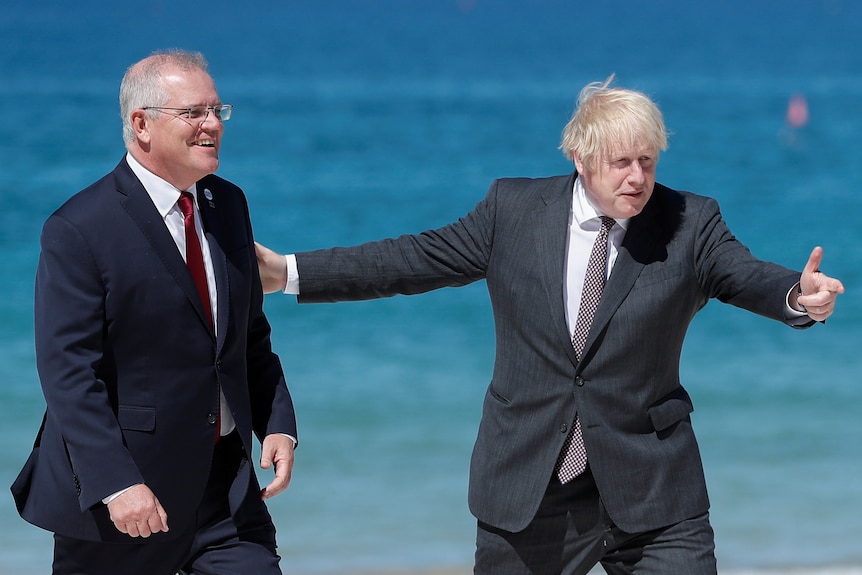 Australia and United Kingdom strike agreement for post-Brexit free trade deal
Prime Ministers Scott Morrison and Boris Johnson have reached an in-principle agreement for a free trade deal between Australia and the United Kingdom.
The two leaders met overnight in London and resolved outstanding issues for the long-running negotiations.
It is set to be the UK's first major post-Brexit trade deal.
Agriculture Minister David Littleproud said the UK and Australian governments were still "nutting out the details" of the deal, and a formal announcement would be made tonight Australian time.
There had been disagreement between the two countries over Australian agricultural exports, and requirements for British backpackers to work in Australia.
Mr Littleproud said a deal had been struck to make sure any drop in UK backpacker numbers, which is usually about 10,000 people a year, would be replaced through other "mechanisms".
"This is subsequent to the Free Trade Agreement," he said.
"We have an agreement that the National party will be able to secure those workers that would otherwise have come and actually build and actually get greater capacity."
A statement from Trade Minister Dan Tehan said the agreement was a "win for jobs, businesses, free trade and highlights what two liberal democracies can achieve while working together".
Mr Tehan also recently travelled to London to hold preliminary trade talks with his UK counterpart Liz Truss, with the pair agreeing there would be an in-principle deal by June.
Iconic British exports expected to benefit from any trade deal with Australia: Department for International Trade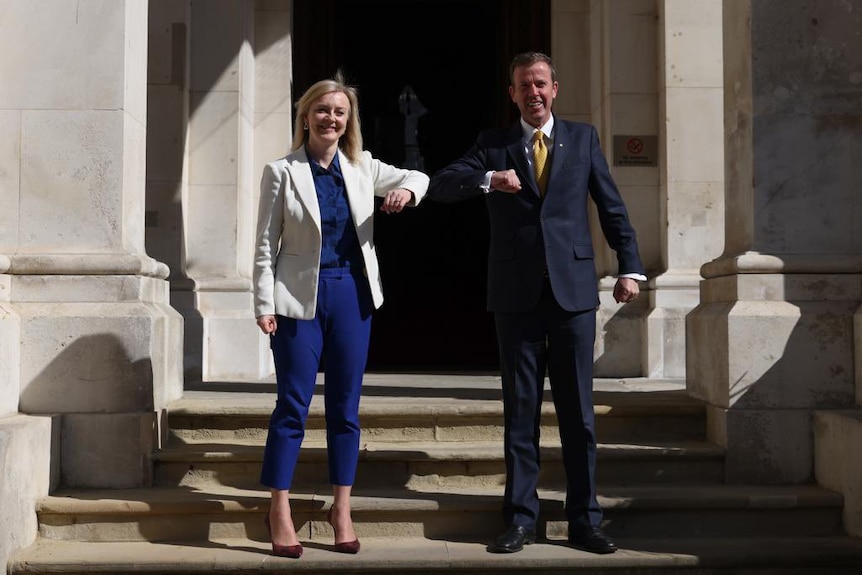 Speaking before the agreement was reached, Finance Minister Simon Birmingham — who oversaw initial negotiations as former trade minister — said it would be a big win for farmers and small businesses.
"It will only be done if it's a good deal for Australia, and crucially in that sense is making sure that our farmers and agriculture sector get the type of export access, along with other small businesses that we expect in a trade agreement to truly open up markets and flow between two nations," Senator Birmingham said.
"If we can get back to a position where we have substantial elimination of tariffs and quotas for Australian goods, as well as an opening up of services markets, then it does provide access to a very significant, very high value market in the UK."
Prior to entering the European common market in 1973, the UK was Australia's most lucrative trading market.
In 2018, the UK was Australia's eighth-largest two-way trading partner, worth $26.9 billion.
The president of the National Farmers Federation, Fiona Simson, has previously said that the "volume of Australian red meat to the UK, in the context of the UK's total red meat imports and Australia's total exports, is very, very small".
The UK government has signed a long list of trade deals over the past year, but they have been rollovers of those the UK already had as part of the EU.
The new trade deal is expected to give UK and Australian food producers and other businesses easier access to each other's markets – an ambition perhaps alluded to by the meal served up to the pair on Monday evening – Welsh lamb and Scottish smoked salmon, washed down with Australian wine.
The UK government says membership of the Comprehensive and Progressive Agreement for Trans-Pacific Partnership (CPTPP) could provide British farmers with huge opportunities.
However, there have been concerns in the farming community about the UK compromising on its food standards, as well as tensions in government between the Environment Secretary, George Eustice, and the Trade Secretary, Liz Truss.'We don't have enough beef to flood the UK market'
UK farmers also have concerns there will be no meaningful safeguards in place to stop farmers being undercut by cheap imports.
Farmers in Australia are allowed to use some hormone growth promoters, pesticides, and feed additives that are banned in the UK.
According to the National Farmers Union (NFU), Australian farmers are able to produce beef at a lower cost of production, and could undercut farmers in the UK.
Scotland had raised worries about the farming industry being overwhelmed if the market was flooded with lower standard goods.
With the two leaders in the same room, sitting at the same dinner table, the UK trade agreement with Australia is now tangible. Both prime ministers can draw on the significance of striking the first deal after the UK has left the EU.
Australian farmers have essentially been locked out of the UK market for almost 50 years – finding it nearly impossible to navigate Brussels' restrictions, tariffs and quotas. The president of the Australian National Farmers' Federation said it had been very difficult to break into the UK because it was "way too expensive and way too far".
But with tariffs and quotas likely to be removed within 15 years – a detail expected in the agreement – it opens up a much-coveted area for the Australian agricultural industry.
On any given day this would be huge news, but it's even more significant now as Aussie farmers look to diversify due to the increased tensions between Canberra and Beijing. In the past year, China has slapped tariffs and restrictions on everything from Australian beef, barley and wine, to rock lobster and coal.
UK farmers have big concerns. They see the potential importation of cheap Australian produce at lower standards on an industrial scale as a real threat to their livelihoods. They've been assured that safeguards will be in place but we have yet to hear what these are exactly.
This deal sets the tone as the world watches closely to see what a post-Brexit British economy looks like in action. How free it really is. How it's changed. More crucially, what compromises it's willing to make to open up new markets.
The Department for International Trade has previously said any deal with Australia would include protections for the agriculture industry and not compromise the UK's high standards.
Trade Secretary Liz Truss defended plans for a deal with Australia last month, telling MPs: "We will make sure in all the deals we do that British farming thrives."
In 2019-20, trade in goods and services between Australia and the UK was valued at £20.1bn.
Metals, wine and machines have formed the biggest goods exports from Australia to the UK, while Australia's main UK imports are cars, medicines and alcoholic drinks.
Trade in meat between the two countries is small, with 0.15% of all Australian beef exports going to the UK and 14% of sheep meat imports to the UK coming from Australia.
ABC/BBC/REUTERS/GOVUK/
#AceNewsDesk report ………Published: Jun.15: 2021:
Editor says #AceNewsDesk reports by https://t.me/acenewsdaily and all our posts, also links can be found at here for Twitter and Live Feeds https://acenewsroom.wordpress.com/ and thanks for following as always appreciate every like, reblog or retweet and free help and guidance tips on your PC software or need help & guidance from our experts AcePCHelp.WordPress.Com