#AceNewsReport – July.09: A friend of mine still remembers the last plague of mice they took over his house in Dubbo in northern New South Wales. They were everywhere, hundreds of them, coming under doors, running loudly in the loft, leaving a revolting stench, not least by dying in inaccessible cavities.
#AceDailyNews says that Australia mice plague and how farmers are fighting back according to Steve Evans of The Canberra Times who goes in search of answers?
His answer was a brutal trap made of sticky paper. The mice would stick to it and he would drown them in a bucket. He still remembers the horror of the squealing.
In the current plague, all kinds of other ingenious methods have been devised.
Most hardware stores have run short of commercial mice traps, so people are improvising. One fills buckets with water and coats the rims with vegetable oil, placing a peanut butter lure in the water. Mice find the peanut butter irresistible and slip on the edge of the bucket to their doom.
AFP: Some farmers have set up water-filled tubs to catch the rodents en masse
People are sharing recommendations.
"Plaster of Paris in flour will kill a mouse eventually but I prefer to see where the mice die and being able to get rid of the carcass," Sue Hodge, a cleaner in the tiny town of Canowindra, three hours' drive north from Canberra, told me.
She prefers traps, though they aren't infallible. She reckons that what she calls "light-footed mice" can still lick a trap clean and get away alive.
Some farmers around here have turned whole shipping containers into traps. The trick is to lure the mice in their hundreds in at one end and funnel them through to the bait and a drowning in a tank at the other end.
But that is arduous and inadequate for the numbers involved, so some favour industrial scale poison.
In response, the government of New South Wales has allocated A$50m (£27m; $37m) in grants for a chemical called bromadiolone which has been described as "napalm for mice".
Getty ImagesPoison is one method being used on fields but there are concerns it is doing more harm than good
The snag is that it poisons pretty well everything else, too and destroys an eco-system.
The stuff kills mice within 24 hours but it stays active for months, and goes into the food chain as predators eat poisoned prey. That has now led the Australian Pesticides and Veterinary Medicines Authority to decline permits for its use in some places.
Other answers have been offered.
Dr Gavin Smith of the Australian National University says snakes, as natural predators of mice, would be a good antidote. He feels they should be allowed to do their natural work.
The snag with this holistic view is that they ARE doing it – there are reports that snakes are much fatter this year because of the abundance of mice. And the rodents are still multiplying.
Mice have bred like – well, I suppose you could say like rabbits – in Australia recently because of the end of the drought and the torrents of rain which have produced an abundance of crops. Thick crops mean good feeding for mice.
But there's another factor – a bit of blowback from agricultural progress.
Land is much more intensively used these days as farming methods have improved. Sowing machines are now so accurate that they can plant seed far more precisely – within a few millimetres, in between last year's stalks – so the previous season's old growth doesn't even need to be cleared away.
This abundant growth is perfect for mice – and for snakes. Progress has a cost.
Why is there a mouse plague in Australia and can it be stopped
Friday 11 Jun 2021 at 4:18am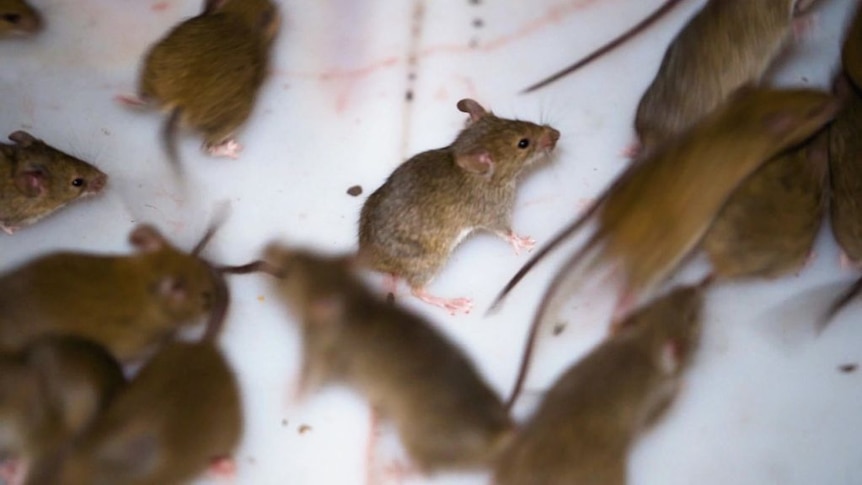 Why is there a mouse plague?
Millions of mice are terrorising Australian farmers, and there's no end in sight.
The mouse plague, which started 10 months ago, has ruined the drought recovery as the pests devour new crops and destroy machinery.
The problem is so severe that mice are biting people in their beds, sending some residents to the hospital in a critical condition.
Here's what you need to know about Australia's mouse plague.
Why is there a mouse plague?
The mouse plague has been caused by a "perfect storm" of optimal weather conditions for breeding and the end of the 2017 to 2019 drought.
The mice first appeared in the spring of 2020 when farmers were harvesting a bumper crop.
There was plenty of grain in the paddocks and in storage for the mice to eat, as well as fewer predators, which died during the drought.
That year regional New South Wales had a particularly mild, moist summer that allowed the mice to keep breeding throughout summer and into autumn.
Winter crops and well-established burrows keep the population well-fed and protected from the colder weather as farmers struggle to eradicate their ever-growing numbers.
Where are the mice?
The mouse plague has stretched across NSW to southern Queensland, northern Victoria and into South Australia.
Experts say there are millions of mice. However, it's impossible to know their true number because of how quickly they breed and their ability to hide.
The problem first began in the grain belt across western NSW, including Dubbo, Coonamble, Warren, Nyngan and Narrabri.
Mouse populations then spread to southern Queensland, forming the "epicentre" on the plague before also spreading to southern NSW.
The prevalence of mice in South Australia across the Adelaide Plains, Yorke Peninsula and Eyre Peninsula has surprised experts given the regions' dry summer.
Impact of the mouse plague on farmers?
The mice have caused hundreds of thousands of dollars of damage to farmers' crops and fodder.
Many farmers have lost most, if not all, of their first big crop since 2017, sending the drought recovery backwards.
Regional homes and businesses, particularly food-related businesses like grocery stores and cafes, have also been impacted.
The mice even cause extensive damage to cars and machinery.
It is also expensive to kill the mice, with the cost of bait rising as demand surges.
The financial destruction, and the disturbing experience of being inundated by mice, is also impacting peoples' sleep and stress levels.
How does a mouse plague end?
Starvation or disease are typically the reason mouse plagues die out.
And while bating is critical to control mouse populations, it's typically not what will end a mouse plague.
Experts say it's crucial farmers and other impacted residents are vigilant with baiting through winter, otherwise there will be a huge number of mice breeding in spring and the problem could get worse.
How are farmers trying to stop the mouse plague?
Farmers are currently using a chemical called zinc phosphide to poison mice in paddocks.
The inorganic compound is coated on wheat to turn the grain into the bait.
That poisoned grain is then scattered around pastures, with a single grain providing a lethal dose to an adult mouse.
Many regional residents have become innovative with bucket traps, with reports they are catching as many as one thousand mice a night.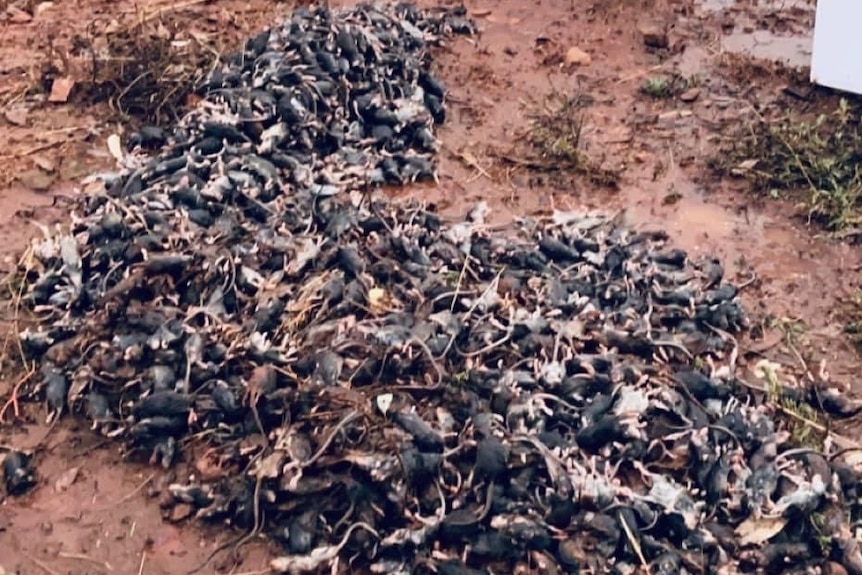 The NSW Government has urgently applied to the independent Australian Pesticides and Veterinary Medicines Authority for the chemical bromadiolone to be registered for agricultural use.
NSW Agriculture Minister Adam Marshall has described bromadiolone as "napalm for mice".
As an anticoagulant, bromadiolone stops the mice's blood from clotting until they bleed to death internally.
It takes a day or longer to be lethal, whereas zinc phosphide baits are lethal in minutes or hours.
Bromadiolone is only registered for home and industrial building use.
The previous NSW Department of Primary Industries (DPI) perimeter bait permit expired and was not renewed for agricultural use.
There are concerns about what impact the chemical will have on native animals.
Will the mice move into the cities?
Mice are typically not migratory animals and will only move about 100 metres from their nest or burrow to forage.
However, behaviour studies from the last plague found mice moving hundreds of metres or even kilometres.
While there may be increased reports of mouse activity in urban areas, it would be due to localised breeding rather than the plague travelling from the country to the city.
Mice always live where humans do, although they are often undetected.
Existing populations increase when they have access to food and shelter.
They may be sighted more frequently during the cooler, wet months as they seek warmth inside homes.
Last month, the mice plague forced a prison to be evacuatedIt started in the spring of 2020 during the harvest seasonIdeal weather conditions for breeding and a bountiful harvest followed devastating bushfires and a years-long droughtMice flourished with plenty of grain to feed on due to diminished populations of predatorsInfestations reported at schools, hospitals, supermarkets and family homesFarmers grapple with the costs of pest control and the destruction of their cropsSome farmers have also blamed damage to machinery on gnawing mice.
#AceNewsDesk report ………Published: July.09: 2021:
Editor says …Sterling Publishing & Media Service Agency is not responsible for the content of external site or from any reports, posts or links, and can also be found here on Telegram: https://t.me/acenewsdaily all of our posts fromTwitter can be found here: https://acetwitternews.wordpress.com/ and all wordpress and live posts and links here: https://acenewsroom.wordpress.com/and thanks for following as always appreciate every like, reblog or retweet and free help and guidance tips on your PC software or need help & guidance from our experts AcePCHelp.WordPress.Com