#mpAceHealthReport – June.28: Editor says that as the world changes so do our bodies to combat every more bugs and illness that have blighted lives and now after years of talking about resistant to anti-biotics we are fighting superbugs in hospitals ….
#AceHealthDesk reports ….that in 2017 we were being told about this happening even #WHO said to prepare as deadly superbug strikes Australia and now as the video says today how hospitals are being affected and infected with them anti-resistant to anti-biotics …
Kindness & LoveX❤️ says time to look for the watchwords to protect yourselves and your loved ones now and always Amen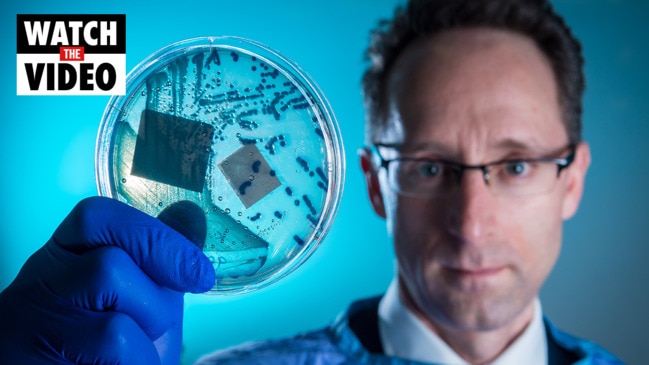 A VICTORIAN man has been diagnosed with the deadly and uncommon fungal superbug Candida auris (or C. auris).
This is the first known case of C. auris in Victoria, prompting authorities to adopt a "search and destroy" approach to prevent an outbreak.
The man in his 70s most likely contracted the infection while in a UK hospital, Victoria's deputy chief health officer Brett Sutton said.
The state's health department is working closely with the healthcare facility where the patient was admitted to screen any other patients who may have been in contact with the virus.
According to the department, the superbug causes serious bloodstream infections and even death, "particularly in hospital and nursing home patients with serious medical problems".
"More than 1 in 3 patients with invasive C. auris infection (for example, an infection that affects the blood, heart, or brain) die," the department stated.
Those at risk include recent overseas healthcare admissions — particularly in the UK, US, South Korea, India, Pakistan, South Africa, Kuwait, Colombia and Venezuela — and also those who have diabetes mellitus, use antibiotics (especially broad-spectrum antibiotics) and or have recently had surgery.
According to the health department, C. auris is transmitted via person-to-person contact and transmitted through medical equipment such as axillary thermometers.
"Candida auris can cause problems in hospitals and nursing homes as it can spread from one patient to another or nearby objects, allowing the fungus to spread to people around them," the department warns.
The man was in a Melbourne hospital for a pre-existing condition when the diagnosis was made and was isolated from other patients, The Sunreported
No one else is believed to have been exposed as the man was in a single room, Dr Sutton said.
All infection control precautions are being taken and cleaning has been completed.
Dr Sutton said the fungus was often highly resistant to medicines, which made it hard to treat.
While most healthy people do not get sick from the superbug, vulnerable patients are more susceptible and may develop severe and potentially fatal infections
Outbreaks have occurred in more than 20 countries since the organism was first discovered in 2009.
A warning has been issued advising health services of the case and the steps clinicians can take if they suspect a case of the fungus.
Any confirmed cases (colonisation or infection) of C. auris in a patient should be reported to the Department of Health and Human Services on 1300 651 160.
WHAT IS C. AURIS?
Candida auris is a yeast, a new variety of an organism so common that it's used as one of the basic tools of lab science.
A lead researcher called it "more infectious than ebola".
"This bug is the most difficult we've ever seen," Centre for Disease Control and Prevention mycotic diseases chief Dr Tom Chiller said. "It's much harder to kill."
According to Maryn McKenna, American journalist and author of Superbug, science can't yet say where it came from or how to control its spread.
"It's been on the radar of epidemiologists only since 2009, but it's grown into a potent microbial threat, found in 27 countries thus far," she wrote on Wired.
She said the main problem is that this yeast isn't behaving like a yeast.
"Normally, yeast hangs out in warm, damp spaces in the body, and surges out of that niche only when its local ecosystem veers out of balance," McKenna said. "That's what happens in vaginal yeast infections, for instance, and also in infections that bloom in the mouth and throat or bloodstream when the immune system breaks down.
"But in that standard scenario, the yeast that has gone rogue only infects the person it was residing in.
"C. auris breaks that pattern. It has developed the ability to survive on cool external skin and cold inorganic surfaces, which allows it to linger on the hands of healthcare workers and on the doorknobs and counters and computer keys of a hospital room."
An Australian man is in isolation being diagnosed with the deadly superbug (not pictured) known as C. auris from a hospital in the UK.Source:Supplied
SYMPTOMS AND TRANSMISSION
According to the Victorian Government's health information website, colonisation is generally on the skin, in the urine or around other indwelling devices (such as tubes and catheters).
Invasive infection can present as sepsis, urinary tract infections, wound infections, ear infections or line infections.
WHY IS IT A MAJOR HEALTH CONCERN
It causes serious infections: C. auris can cause bloodstream infections and even death, particularly in hospital and nursing home patients with serious medical problems. More than one in three patients with an invasive C. auris infection (for example, an infection that affects the blood, heart, or brain) die.
It's often resistant to medicines: Antifungal medicines commonly used to treat Candida infections often don't work for Candida auris. Some C. auris infections have been resistant to all three types of antifungal medicines.
It's becoming more common: Although C. auris was just discovered in 2009, it has spread quickly and caused infections or facility outbreaks in more than a dozen countries.
It's difficult to identify: C. auris can be misidentified as other types of fungi unless specialised laboratory technology is used. This misidentification might lead to a patient getting the wrong treatment.
It can spread in hospitals and nursing homes: C. auris has caused outbreaks in healthcare facilities and can spread through contact with affected patients and contaminated surfaces or equipment. Good hand hygiene and cleaning in healthcare facilities is essential because C. auris can live on surfaces for several weeks.
WHICH COUNTRIES HAVE IT?
Single casesof C. auris have been reported in Australia, Austria, Belgium, Malaysia, the Netherlands, Norway, Russia, Singapore, Switzerland and the United Arab Emirates.
Multiple casesof C. auris have been reported in Canada, China, Colombia, France, Germany, India, Israel, Japan, Kenya, Kuwait, Oman, Pakistan, Panama, Saudi Arabia, South Africa, South Korea, Spain, the UK, the US (primarily in the New York City, New Jersey and Chicago areas) and Venezuela. In some of these countries, extensive transmission of C. auris has been documented in more than one hospital.
Antibiotic-resistant superbugs on the rise and leaving patients with life-long illness
ABC News: updated Sun 4 Aug 2019 at 8:58pm
Anthony Fox was a young father of two with a career in the public service ahead of him when a stroke knocked him down.
But it was an antibiotic-resistant superbug that meant he would never again properly get back up.
"I was found lying on the floor at 5:00am in the morning," he said.
Mr Fox had developed a clot on his brain following a neck manipulation by a physiotherapist, officially known as a carotid artery dissection.
He was rushed to hospital and needed his skull opened to relieve the pressure on his brain.
But the worst was still to come.
"I was lying in the recovery bed and my mum came into visit and she noticed my head had swelled up to twice the size and my eyes were bulging," Mr Fox said.
"I was rushed into an operating theatre."
During his first surgery, Mr Fox had contracted methicillin-resistant Staphylococcus aureus (MRSA), commonly known as resistant golden staph.
The Adelaide man needed further surgery to get rid of the infection, and to remove part of his brain to reduce the swelling.
He spent the next month in hospital on drip antibiotics as his body fought both MRSA and tried to recover from the stroke.
But, he says the MRSA severely hampered his road back.
"It was absolute hell," he said.
"The staph infection stopped me doing a lot of the rehab activities, particularly not being able to go into the swimming pool to learn how to walk to again."
Do you know more about this story? Email Specialist.Team@abc.net.au
'Black hole' in superbug surveillance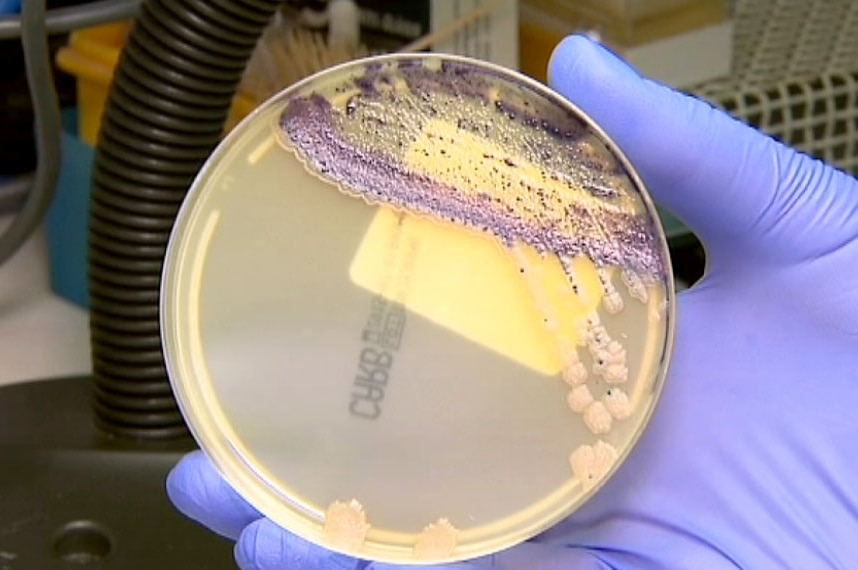 Health authorities would like to avoid experiences like Mr Fox's through better detecting and preventing antibiotic-resistant infections.
Writing in the Medical Journal of Australia, clinical microbiologist Deborah Williamson, from the Doherty Institute, and fellow infectious disease experts have argued there is a "black hole in surveillance" in antibiotic resistance in Australia.
The researchers named four key infections and fungi that pose the biggest threat to the health of Australians in the future.
In hospitals, the researchers have said a top concern is a group of bacteria that are resistant to carbapenems, a type of strong antibiotic.The antibiotics dilemmaWhy we're running out of drugs to treat the superbugs.
The number of cases of these infections resistant to carbapenems in Australia has risen more than 14 per cent in one year, from 527 cases in 2017 to 603 in 2018.
Without treatment, about 40 per cent of patients die and many more suffer life-altering side effects.
The experts are also concerned by a yeast called candida auris that is resistant to several antifungals and has previously been brought into Australia from overseas.
In the community, microbiologists are worried about strains of gonorrhoea that are showing resistance to treatments and appear to have been transmitted via South-East Asia.
Travellers to and from places like Pakistan are also being warned about a drug-resistant type of typhoid thought to be acquired through E. coli bacteria.
"We know these are emerging overseas and they are really pathogens that are on our doorstep," Associate Professor Williamson said.
"If there are no options available … it's looking at a Darwinian struggle of survival of the fittest."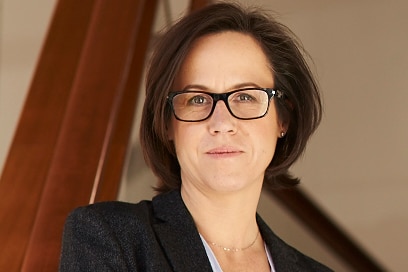 Associate Professor Williamson said while there were some good patient surveillance systems in Australia, the country needed to take a more sophisticated approach.
"The bugs are pretty smart and we need to be equally smart in the way we respond to them."
Her suggestions included creating real-time monitoring systems that could identify the genetic make-up of certain strains and track their movement to prevent further spread.Five of the scariest antibiotic-resistant bacteriaAntibiotic resistance is a major and growing global health threat. These recent examples show how dangerous it can be.
The University of Melbourne academic was particularly concerned that some labs now tested for infections like gonorrhoea using techniques that resulted in only a positive or negative result.
As a result, patients could potentially be prescribed ineffective antibiotics and continue to spread the illness without knowing.
This was instead of generating a bacteria for culture that could indicate whether it was a strain that was resistant to antibiotics or not.
"That does create a black hole in resistance surveillance. That's a very real threat," she said.
For example, in Australia less than 30 per cent of all gonorrhoea tests were cultured.
"That's a huge amount we're missing in resistance," she said.
Resistance in waterways and animals
Peter Collignon, an infectious diseases physician at the Australian National University, has echoed calls for better monitoring, particularly in waterways and agriculture.
Professor Collignon said he felt federal authorities adequately tracked cases of antibiotic resistance in humans, but said other sectors needed to follow suit.
"What goes around in one sector eventually is likely to come to another sector," he said.
"It's a big soup which feeds on itself.
"But the trouble is we don't have a real-time ongoing surveillance similar to what we've got in people."
Professor Collignon said antibiotic resistance in agriculture had not been monitored for many years and meant there was little understanding of antibiotic resistance in meats like cattle, chicken and pigs.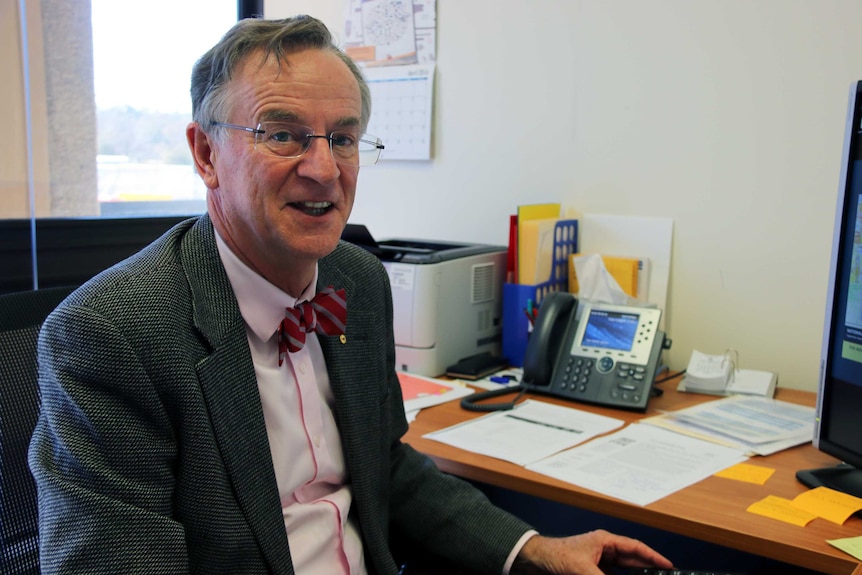 "We also need to see what is coming into this country — there's huge amounts of aquaculture coming in and other products and they come often from areas with very poor water supplies."
The Australian Commission on Safety and Quality in Health Care has effectively clamped down on hygiene practices in hospitals and halved the spread of infections like MRSA in the past 15 years.
Similar public programs in the veterinary and water sectors could do the same, Professor Collignon said.
"The vast majority of people who come in contact with these bugs are not sick at all," he said.
"What it means is that you then carry the superbug in your bowel — that eventually disappears if you're in a good country.
"But there is basically a tsunami of many of these superbugs right at our doorstep."
Associate Professor Williamson described the current system for monitoring animals and the environment as "patchy and pretty ad hoc".
"We could respond in real-time to some of these emerging threats rather than just counting numbers retrospectively."
Patient urges consideration of prescription decisions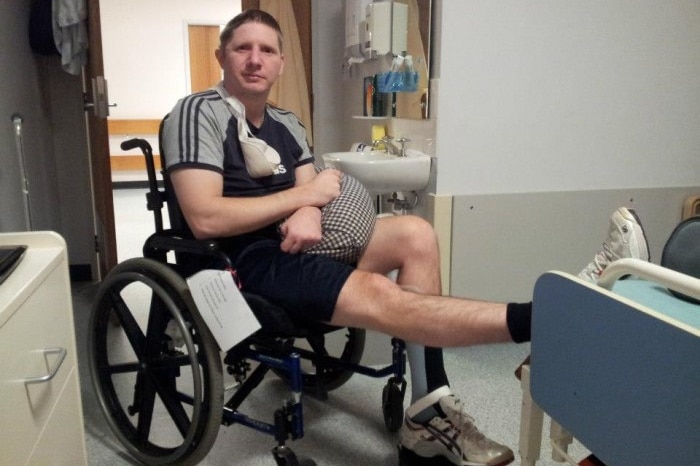 It has been nearly seven years since Mr Fox lost most of his ability to walk and since then he has also lost his marriage and sees his children only once a month.
He spends most of his time in a wheelchair and can no longer work.
Mr Fox urged doctors, regulators and other health authorities to consider the impact of their prescribing decisions on people like him.
"Unfortunately because of this infection I believe my capacity of being able to walk was affected," he said.
"My life is very limited, I am stuck in my house most of the day until I get a support worker.
"Everything flowed on from the infection."
But he also said he now sees the world through a different lens.
"For me, I was able to fight off the bug," he said.
"Every day is a blessing, but I'm also not really wanting to live because life's so difficult."
Superbugs: What are they and how are they treated?
Posted Tue 28 Feb 2017 at 9:21am
The World Health Organisation is warning new antibiotics urgently need to be developed to combat 12 families of bacteria posing a threat to human health.WHO says new drugs urgently needed to fight bacteria familiesWHO says the world is fast running out of treatment options to combat bacteria.
The WHO said many of the bacteria have evolved into superbugs that are resistant to antibiotics.
The health agency said governments need to invest in research if new drugs are to be found in time to control the superbugs, as market forces do not respond fast enough to the threat.
Professor Penelope Bryant, an honorary fellow in infection and immunity at the Murdoch Children's Research Institute, said government investment would not be enough.
"It costs a lot of money to develop a drug, so the WHO releasing this list of urgent priority bugs is an important call to action to develop new antibiotics to prevent more deaths," she said.
"As important as new antibiotics are, to stop the rise in resistant infections we need to do more. We need to stop the spread of infections and we need to preserve our current antibiotics by using them better."
So what is the scope of the superbug issue? And how do we better use our antibiotics to stop the rise of superbugs?
What is a superbug?
Superbugs are strains of bacteria that have adapted after coming into contact with an antibiotic.
Once this happens, these bacteria become "resistant" the to antibiotic to which they have been exposed, which means the antibiotic cannot kill the bacteria or stop them from multiplying.
So you end up with bacteria in effect equipped with "bulletproof vests" that deflect our "magic silver bullets" of antibiotics.
It is worth noting not all bacteria are bad, they are everywhere and are mostly harmless. Some are quite helpful. Others can cause illness.
We can often recover from bacterial illnesses with no treatment, such as minor skin or ear infections. But sometimes these illnesses are deadly, for instance meningitis or pneumonia, making treatment with antibiotics essential.
There are measures we can take to prevent infection.
How does it happen?
Overusing antibiotics is a major cause of antibiotic resistance, as is incorrectly taking antibiotics you have been prescribed.
Studies have found one packet of antibiotics can affect the level of drug-resistant bugs in your own body and can also contribute to the broader issue of antibiotic-resistant disease at a community level.
After just one course of antibiotics, the risk of having antibiotic-resistant organisms increases by roughly 50 per cent.
At an individual level, when you take antibiotics it is not just the bacteria making you sick that are affected.
For example, when you take antibiotics for a urinary tract infection, these can impact on bacteria in other parts of your body, such as your gut or your nose.
Sometimes these bacteria are part of your body's natural defences to bacterial infection — like the good bacteria in your gut.
This can then make you more susceptible to antibiotic-resistant bacteria spread by other people.
Overuse in Australia
According to the Australian Commission on Safety and Quality in Healthcare, Australia has a higher rate of antibiotic use when compared to similar countries, such as Canada and the United Kingdom.
In 2014, 46 per cent of Australians were supplied with at least one antibiotic.
But it is not just humans who are being dosed. Agricultural antibiotic use is also a contributing factor, with the human consumption of antibiotic-treated chicken and livestock further increasing resistance.
Should we be worried?
The World Health Organisation has identified antibiotic resistance as one of the greatest threats to human health today.
A UK Government review into antimicrobial resistance commissioned in 2014 found that if left untreated, antibiotic resistance could lead to 10 million deaths a year worldwide by 2050 — costing the world roughly $1.3 trillion.
One of the main types of multi-resistant organisms found in Australia are the bugs that cause staph infections, which can be found both in hospitals and in the community.
But fortunately, so far Australia has managed to avoid some of the other superbugs that have become prevalent overseas.
One type of superbug Australia has managed to keep under control is multidrug-resistant tuberculosis.
Once considered manageable with antibiotics, drug-resistant strains are on the rise again in developing nations, particularly in sub-Saharan Africa.
But superbugs have even become an issue in developed countries like the United States, where some types of multi-resistant bacteria are a bigger problem than in Australia.Why your decisions matter in the fight against superbugsJust one packet of antibiotics can have an impact on your body's ability to fight disease the next time you get sick.
In a hospital environment, doctors use antibiotics for a variety of reasons — and not just to treat patients who presented with infections.
For instance, people having surgery, such as hip or knee replacements, are given antibiotics to prevent or treat infections.
One big worry with superbugs is that if doctors do not have antibiotics at their disposal, things like hip replacements are suddenly much more dangerous than they would otherwise be.
How many superbugs are there?
The WHO said there were 12 "priority pathogens" posing a significant risk to human health, some of which have already evolved into superbugs. The list is divided into "critical", "high", and "medium" priorities, based on how urgent the need for new antibiotics to treat the bug is.
The critical group includes multidrug-resistant bacteria that pose a particular threat in hospitals, nursing homes, and other care facilities.
Ace Health News, ABC News, 9News, WHO,
#AceHealthDesk report ………Published: Jun.28: 2021:
Editor says …Sterling Publishing & Media Service Agency is not responsible for the content of external site or from any reports, posts or links, and can also be found here on Telegram: https://t.me/acenewsdaily all of our posts fromTwitter can be found here: https://acetwitternews.wordpress.com/ and all wordpress and live posts and links here: https://acenewsroom.wordpress.com/and thanks for following as always appreciate every like, reblog or retweet and free help and guidance tips on your PC software or need help & guidance from our experts AcePCHelp.WordPress.Com