#AceHealthReport – Aug.21: ACT Chief Minister Andrew Barr said 11 of the new cases were linked to known cases, while the 12th was still being investigated…..
#CoronavirusNewsDesk says as ACT records 12 new #COVID19 cases and one person is in hospital in a stable condition, after they were confirmed as a positive case at 1:00am today as second week of lockdown begins
Kindness & LoveX❤️ says be safe and protect others when you are about outside being a 'Good Samaritan' by wearing a mask God Bless Shalom 🙏's
Mr Barr said it was good news that so many of the new cases were linked, but that any additional cases showed how important it was to obey lockdown restrictions.
"It's gone from one case to nearly 100 inside of a week, and that demonstrates how quickly this virus can spread," he said.
Sydney curfew brought in after four men fined for 'exercising' at 2am
It may have been the final straw.
Four men were stopped in Drummoyne by police at 2:00am, and told officers they were out and about for "exercise".
Hours later, the NSW government announced curfews would be put in place for residents of Sydney's 12 local government areas (LGAs) of concern from Monday.
NSW Police commissioner Mick Fuller said the men — each from LGAs of concern — were slapped with $17,000 worth of fines and "sent packing home".
Under the new curfew, people from the 12 LGA hotspots — Bayside, Blacktown, Burwood, Campbelltown, Canterbury-Bankstown, Cumberland, Fairfield, Georges River, Liverpool, Parramatta, Strathfield and some suburbs in Penrith — must stay home from 9:00pm to 5:00am.
The only exceptions are if they are an authorised worker, if there is an emergency, or to seek medical care.
A similar curfew was introduced in Melbourne on Monday, the same day Victoria recorded 22 new cases.
NSW today recorded 644 new local cases, and a swathe of new restrictions were announced.
NSW Premier Gladys Berejiklian said the new restrictions were introduced after "the sudden escalation of cases and secondly the feedback from police about a handful of people flagrantly disregarding the rules".
NSW Police have been on a blitz to crack down on non-compliance of public health orders, as part of Operation Stay-at-Home.
If there was no lockdown and we just let it rip, it wouldn't be 100 cases, it would be possibly in the low thousands and we would have a serious problem — a Sydney-scale problem.
"I can say with a degree of confidence that the lockdown is having its desired effect, but the incubation period for this virus is more than one week and so that's why we've got to stay the course here."
There were 6,804 tests conducted in the past 24 hours, and Mr Barr said waiting times for tests had improved significantly.
Just over 18,000 Canberrans are currently identified as close contacts of a known case or exposure site.
Chief Health Officer 'cautiously confident'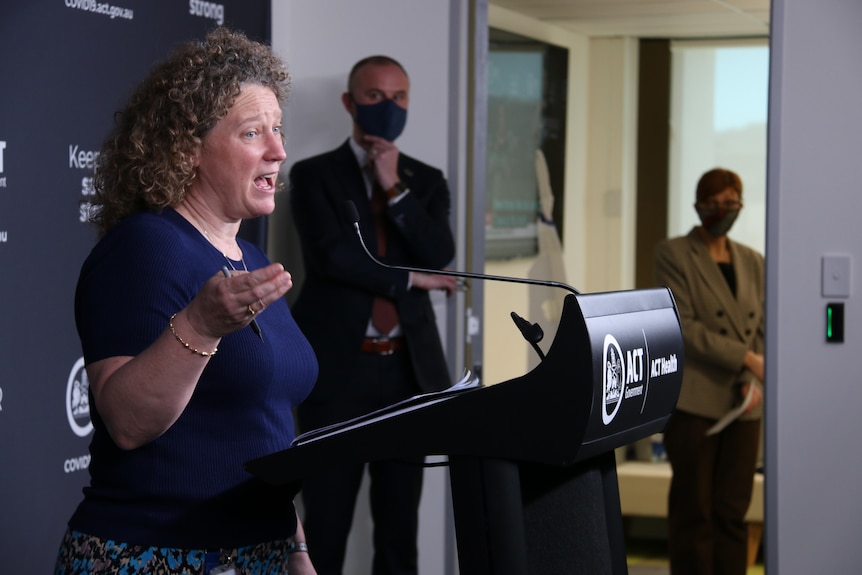 ACT Chief Health Officer Kerryn Coleman said while an additional 12 cases were recorded today, which would have brought the number of active cases in Canberra to 95, health authorities had identified a "duplicate" case and had removed it from the numbers.
Dr Coleman said the person in hospital was doing well and was not receiving ventilation.
"We are currently working with the hospital on identifying any contacts and we will be directly contacting those people," she said.
She said she was "cautiously confident" that the capital's response to the outbreak was working.
"These cases that we are seeing is what we would be seeing if we had not locked down anyway," she said.
"Now is the time we start seeing the impact of the lockdown, and what we don't want to see is that exponential rise in cases that we have seen in some countries overseas where they haven't put lockdowns in place.
"But sometimes COVID is tricky, this Delta variant is very tricky and we know it gets into some parts of the community that we have trouble getting to … and we are working very hard so that the entire community comes along with us and we are all working together to be safe."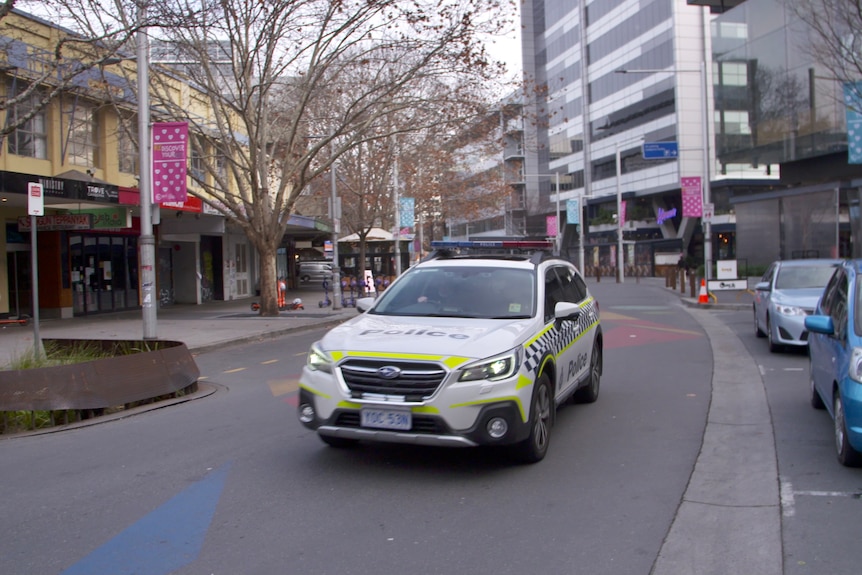 Far fewer close contact locations were announced yesterday, and the majority of those recorded were casual contact sites.
"Once we identify cases that have been infectious since the lockdown time, the number of sites and contacts should start to decrease and we should start to see that if not now, then very, very soon," Dr Coleman said.
"We are looking at closely analysing that and I will start to talk to that a little more in regards to how our cluster and outbreak is expanding."
But she said it was expected that health authorities would see more cases in hospital as the number of infections grew.
"And a certain percentage of those will need to probably have intensive care support, but once again we have been working on this with the hospitals," she said.
"They have plans and they have a timeline now to re-energise those plans and get those things in place."
Dr Coleman also said ACT Health was receiving a large number of requests for exemption to the lockdown rules.
"We are prioritising these requests and are prioritising the ones that are coming for essential reasons, but every request will get a response. It just may take us a bit of time to get there," she said.
Vaccines for children a priority: Barr
Mr Barr said the "biggest issue" the territory was facing was in securing vaccines.
"The biggest issue … is available Pfizer supply. AstraZeneca is available and GPs and pharmacists are ordering more," he said.
"We know Canberrans want to get vaccinated and we are doing all we can to support you, but the thing that is holding us back is vaccine supply."
He said he would also be pushing for vaccines to be made available to children at today's National Cabinet meeting.
The ACT is ahead of the other states and territories in its vaccine rollout.
"The evidence in terms of the cohort of Canberrans who have had access to vaccination demonstrates that we will shoot well above 80 per cent [of the population] here," Mr Barr said.
"Over 70s are at 90 per cent. I think it is reasonable to want to get to that level of vaccination across our entire community.
"Again, I'm worried about under 16s, I'm worried about what we are seeing at the moment. But of course, I recognise that we do not yet have an approved vaccine for children under 12."
Misdirected calls impacting police emergency call centre
ACT Policing is issuing urgent advice to Canberrans regarding calls being made to its emergency operations call centre.
Call waiting times for non-urgent calls to 131 444 have increased significantly as a result of misdirected, and sometimes needless, calls being made to police.
Superintendent of Operations Rebecca Goddard said that people should consider if their call to police was really required.
"We understand that people are concerned about everyone doing the right thing during the lockdown but calling us to report two children not wearing masks while jumping on a trampoline in their backyard is a serious waste of our resources," Superintendent Goddard said.
"We have also had calls about two people getting out of a car in a retail carpark and calls from people seeking advice about exemptions or other health-related questions.
"These are not calls that should be made to police. These calls can delay important information about crimes currently being committed such as family violence incidents, vehicle thefts, burglaries and information about missing persons which has happened this week. One person reporting information about a missing person had to wait more than 30 minutes to speak with us.
"I am asking anyone who is about to call police to ask themselves – is this an immediate police matter? If not, there are other ways to provide your information or to get information."
To get the most up to date information about current health directions visit https://www.covid19.act.gov.au/
To report legitimate matters of non-compliance with health directions visit https://www.accesscanberra.act.gov.au/s/report-covid-19-breach
Information is updated regularly and people should always check the COVID website before making a compliance report.
For all legitimate police matters please call 131 444 or 000 in life threatening situations.
ACT Policing COVID-19 Taskforce Commander Jo Cameron encouraged people who were uncertain about what may be happening around them during lockdown to connect with their neighbour in a safe, distant way.
"Knowing your neighbours and the people in your community is beneficial all the time, and particularly during an emergency or crisis such as what we are facing," Commander Cameron said.
"Staying connected is critical to help combat feelings of loneliness or even anxiety that could arise or worsen as a result of staying home – which we've seen from some of the compliance reports made. Check in over the phone or online with your neighbours and leverage your built-in community.
"We would also like to thank the overwhelming majority of the community for coming together and doing a great job at complying with the current restrictions."
#AceHealthDesk report ……….Published: Aug.21: 2021:
Editor says …Sterling Publishing & Media Service Agency is not responsible for the content of external site or from any reports, posts or links, and can also be found here on Telegram: https://t.me/acenewsdaily all of our posts fromTwitter can be found here: https://acetwitternews.wordpress.com/ and all wordpress and live posts and links here: https://acenewsroom.wordpress.com/and thanks for following as always appreciate every like, reblog or retweet and free help and guidance tips on your PC software or need help & guidance from our experts AcePCHelp.WordPress.Com