This is our daily list of posts on that are shared across Twitter & Telegram and Shared here on mydaz.blog/
#CoronavirusNewsDesk says heres todays News Headlines With Kindness & Wisdom' on #COVID19 and the latest on the #pandemic across Australia be safe ALL 🙏's
'Todays selection of posts from across our publishing panel, Twitter & Telegram with Kindness & Love❤️'
ACT records 1,305 cases of COVID-19 as new hospitality restrictions begin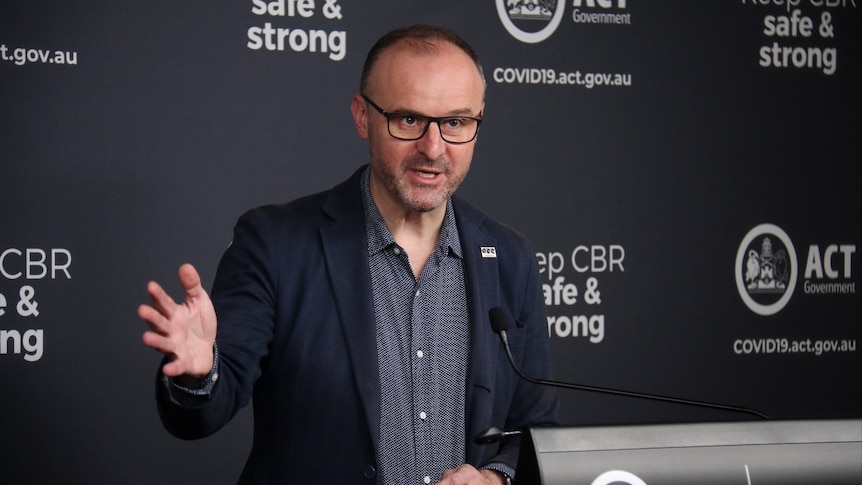 The ACT has recorded 1,305 new COVID-19 cases.
That number is the territory's highest daily tally of the pandemic to date, and the second time cases have exceeded 1,000.
There are 24 people in hospital as a result of the virus — five of them are in ICU, four of whom are being ventilated.
Although 98.5 per cent of ACT residents aged 12 years and over are fully vaccinated, just 20.3 per cent of ACT residents aged over 18 years have received their booster shot.
There are currently 4,941 active cases of COVID-19 in the territory.
ACT enters new COVID-19 restrictions
Today's numbers come as the territory enters new restrictions prompted by the ACT recording more than 1,000 new cases of the virus on Friday.
From midday today, dancing will be banned at licensed venues and patrons must be seated while eating and drinking.
"Mandatory face masks, density limits and other public health measures for businesses and indoor venues will also continue," ACT Chief Minister Andrew Barr said.
"Events will continue, with ACT Health working closely with event organisers to ensure COVID safety plans are in place."
While COVID-19 has wreaked havoc on the hospitality industry, Peter Barclay — the owner of King O'Malley's in Civic — said the new restrictions "impact in a very positive way".
"[Without restrictions] patrons won't come and visit pubs and restaurants and bars, and also staff won't feel comfortable working there," he said.
"We have to accept that we're in a in a difficult situation. It's difficult for people feeling comfortable to go out. It's difficult financially for business to operate [but] Canberrans have been amazing up until this point."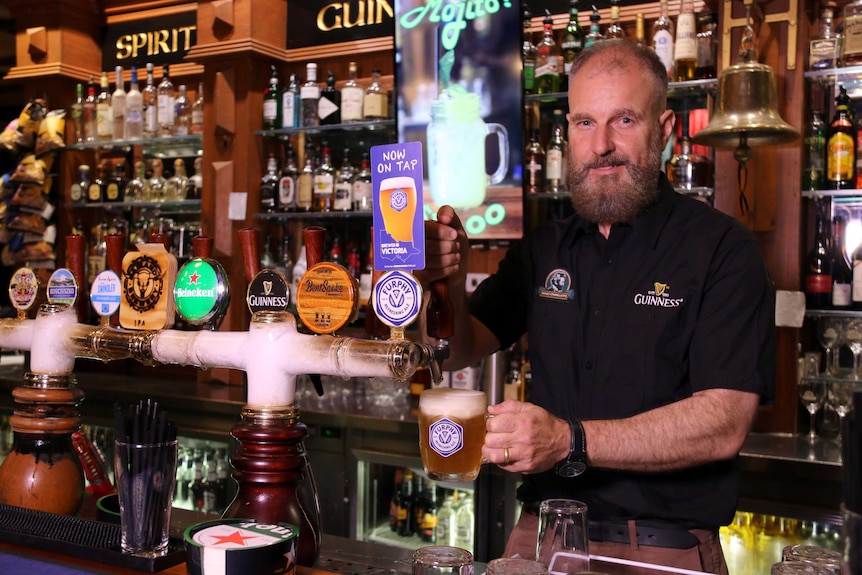 Mr Barclay said most of his patrons were already taking COVID-safe measures "without being asked".
"They've scanned in, they're wearing masks on arrival. Most of them are choosing to sit outside," he said.
"The government's also made it very easy for hospitality venues to make an application and, at no charge, have outdoor seating. I think is a great initiative and, if people feel comfortable outside, that's great — it means hospitality can continue on."
Elective surgeries postponed at Calvary hospital
Alongside hospitality restrictions, non-urgent elective surgeries — known as category 2 and category 3 — will also be ceased at Calvary Public Hospital for up to eight weeks.
ACT Health Minister Rachel Stephen-Smith said this change would allow health staff to be redeployed to respond to the COVID-19 outbreak.
"Postponing elective surgeries is always incredibly difficult, but taking this action will enable additional health care staff to be redeployed to respond to the COVID-19 outbreak," she said.
"We will continue to monitor the situation and will look to switch non-essential elective surgeries back on at Calvary as soon as we possibly can."
Ms Stephen-Smith said there would be no changes to elective surgeries at Canberra Hospital or in the ACT's private hospitals "at this time".
The reintroduction of COVID-19 restrictions in the ACT aligns with the reintroduction of restrictions across the border in New South Wales.
Earlier this week, the ACT government also ceased using the terms "close" and "casual" contacts, and instead are measuring exposure based on high, moderate or low risk.
Queensland confirms two more COVID-related deaths, 11,174 new confirmed cases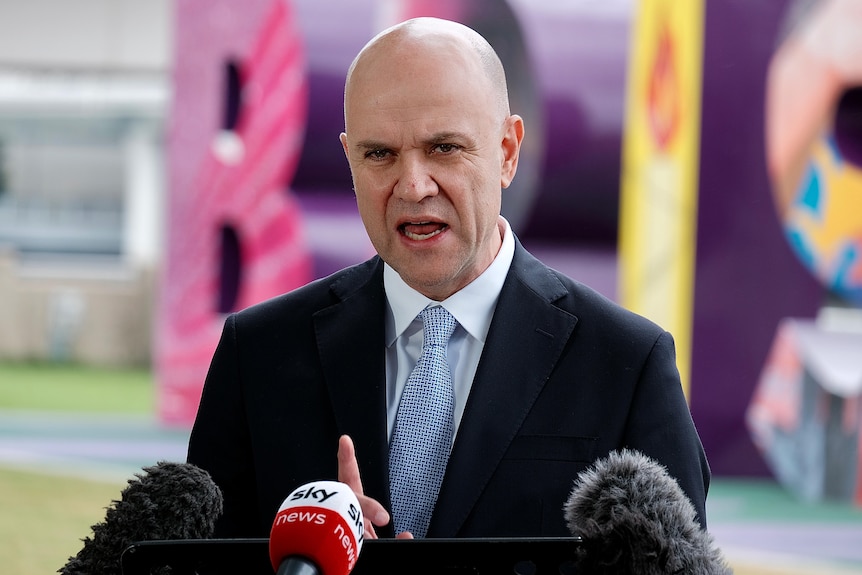 A man in his 30s died "unexpectedly" at home on January 5 after contracting COVID-19, Queensland's Chief Health Officer John Gerrard confirms.
"The coroner has reported to us that the cause of his death was related to COVID-19. I can also confirm he was unvaccinated," Dr Gerrard said.
He said the death of another man on the Gold Coast had also been attributed to COVID-19.
Queensland confirmed 11,174 new COVID-19 cases in the latest reporting period.
Dr Gerrard said the deaths of young people from COVID-19 were "rare and particularly unexpected".
"The most common cause of the sudden deaths in young people relate to infection by the virus of the heart, myocarditis, and that's the probable cause in both of these individuals."
Health Minister Yvette D'Ath announced a statewide suspension of non-urgent elective surgery in Queensland public hospitals.
More cases in remote Aboriginal communities
Earlier this week, two cases of COVID-19 were confirmed in Amata, a community in the state's remote APY Lands — the first during the pandemic.
The Premier said about 300 people in that community had already been tested, with all 270 results returned so far coming back negative.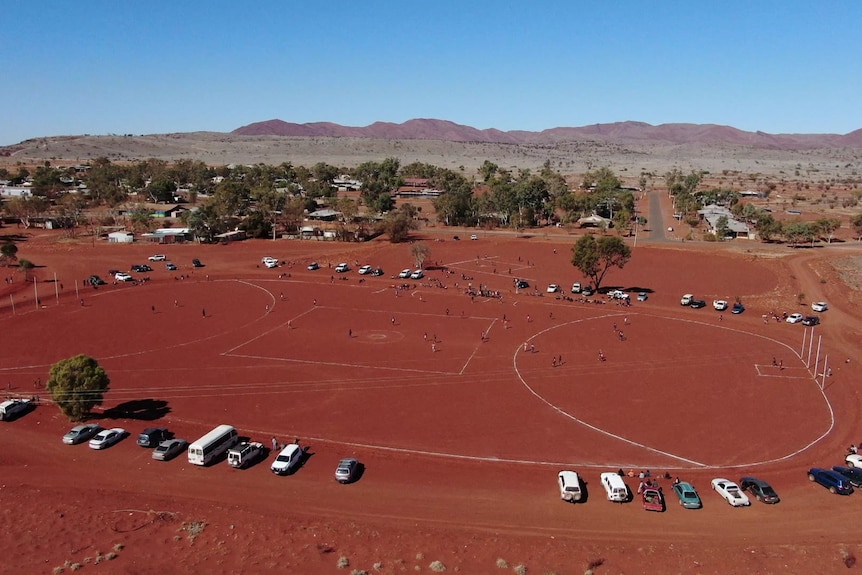 "We are hopeful that we got to this just in time," he said.
But the Premier did confirm more cases had been recorded in other Aboriginal communities.
He said one had been recorded in a person from Indulkana on the APY Lands, while two cases had been confirmed in Koonibba on the state's Far West Coast,
"They've been brought to Adelaide and we're testing the Indulkana community," he said.
Mr Marshall said the state government was "strongly considering" whether to make booster shots mandatory for more industries, after a direction issues yesterday bringing in the requirement for those working in the aged care and disability sectors.
SA to stay ahead of food shortage concerns
Mr Marshall said while the state was not currently experiencing any "acute" food shortages, Professor Nicola Spurrier would be discussing supply chain concerns at a meeting with the AHPPC.
"We have seen some [shortages] interstate that are worrying, and we want to stay ahead of the game … here in South Australia," he said.
"We are concerned that, as more and more people across the country become infected, that we [make sure we] don't slow down those food supply chains.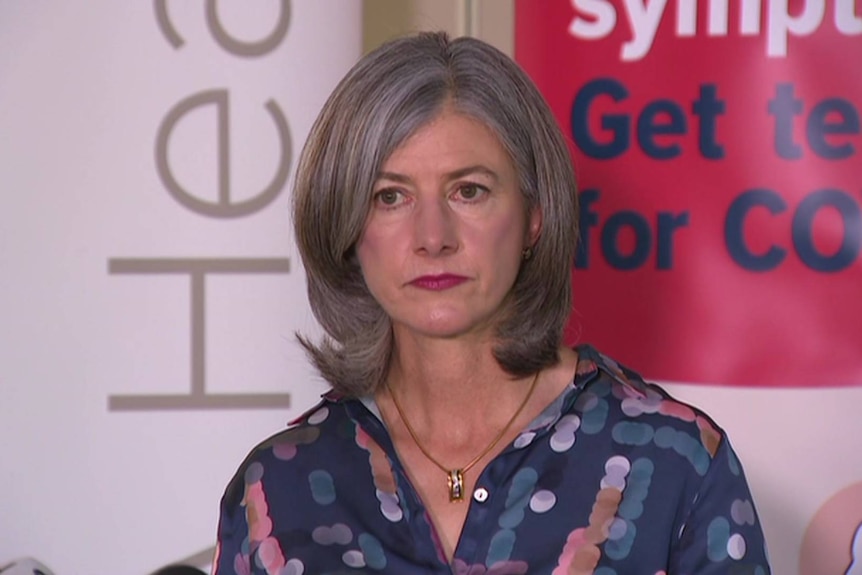 "I don't think we have any acute shortages here in South Australia. There were certainly no shortages where I was this morning."
But, he said, outbreaks within food production and processing industries demanded serious attention.
"We are very concerned about outbreaks in workforces, both in the red meat and chicken industries in South Australia," he said.
"Once it gets into a workforce, it gets very difficult to keep it out."
Opposition health spokesman Chris Picton said he had noticed empty shelves at his local supermarket on Friday evening.
Shop, Distributive and Allied Employees' Association (SDA) secretary Josh Peak said the entire country was facing "enormous supply concerns".
"About half a million Australians are living with COVID-19 at the moment and isolating, and that's causing major workforce issues," he said.
"There are particular issues through the supply chain, whether that be food manufacturing, transport workers, distribution centres, and supermarket staff – workers are missing.
"The COVID outbreak is hitting the northern suburbs particularly heavily and that's where many of our distribution centres are based.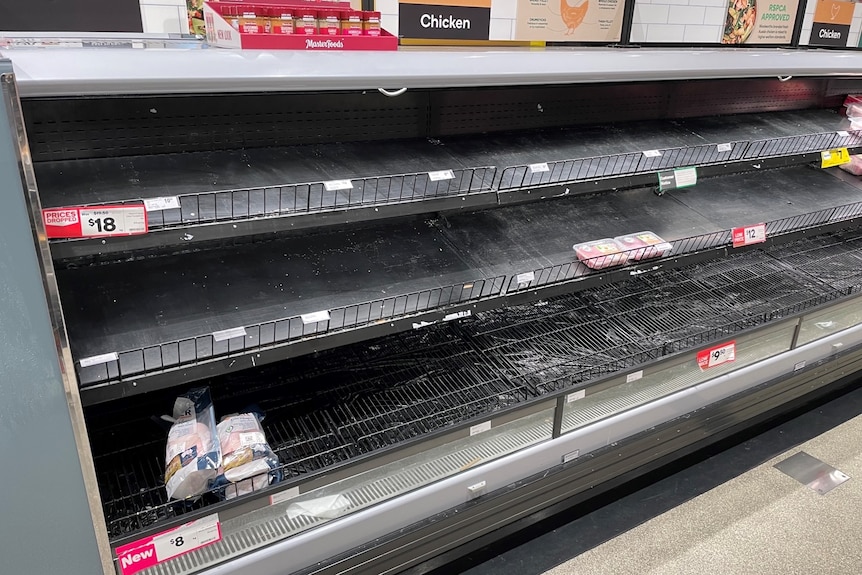 "That's putting food security at risk."
Mr Peak said staff were already "copping increased abuse", and implored people to stay calm while shopping.
"Any panic buying or any attempts to hoard essential items will just make this worse," he said.
He said retail workers were "scared of catching COVID-19" and have reported serving customers who appear to be symptomatic while out shopping for rapid antigen tests.
"That's part of the reason why we've been calling on the government to make them [RATs] freely available," he said.
"To think that there are people walking through retail outlet after retail outlet, pharmacy after pharmacy, trying to find these RATs … while potentially spreading the virus further, is truly shocking."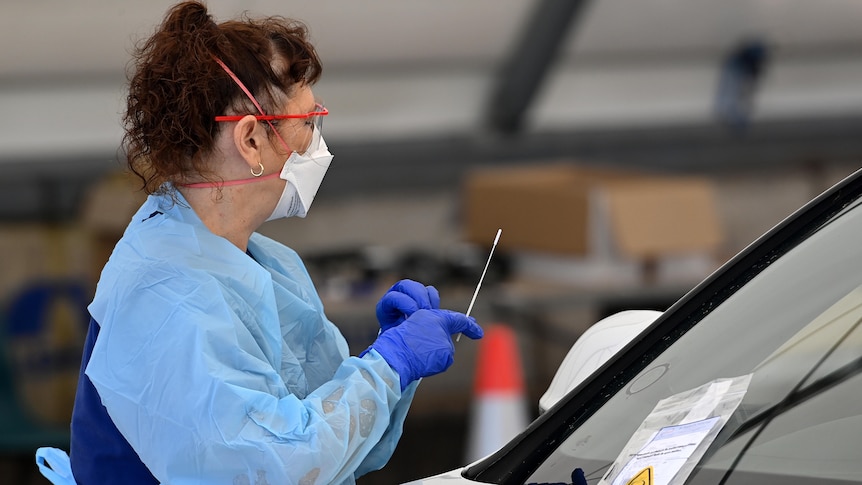 NSW has recorded an almost 40 per cent COVID-19 positive testing rate in the latest reporting period, which saw 45,098 COVID-19 cases and nine deaths.
Hospitalisations have risen by 57, bringing the total number of COVID patients admitted for treatment to 1,795.
There are also 145 people in intensive care, up another 11 in the latest reporting period.
There were 116,915 COVID swabs taken, making the positivity rate 38.57 per cent.
A new reporting system will allow people to log positive rapid antigen test (RAT) results with Service NSW, which will be made available next week and will likely drive this figure up further.
On Friday, the NSW government revealed modelling which indicated the state would reach the peak of COVID-19 cases in mid-January before subsiding in February.
Premier Dominic Perrottet said the modelling, prepared by health officials and experts, was done to better understand what was happening in the state, particularly with hospital capacity.
"We have modelled three different areas over this period of time as pressure on the health system builds over the next few weeks," Mr Perrottet said.
"This is in line with what we did during the Delta outbreak."
NSW Health deputy secretary Susan Pearce said the modelling was complex and would be monitored for changes.
Ms Pearce said case numbers were important when looking at the impact on hospitalisations but other factors such as the health of the population and vaccination rates were also taken into account.
Chief Health Officer Kerry Chant also said shifting the focus from exact case numbers ensured vulnerable groups avoided hospitalisation.
"Moving forward, we're not as interested in absolute case numbers. What we're very interested in is making sure the right people with COVID are getting the care they need," she said.
Ms Pearce said the modelling was done with a revised-down number of available beds in intensive care units in recognition of the growing pressure.
Ms Pearce said these were among the solutions going on in the background and if need be, she would put a "uniform on".
The latest figures come as NSW reinstates a ban on dancing and singing in hospitality, entertainment venues and major recreational facilities today.
This prohibition will not apply to weddings.
Major events may also be subjected to risk assessments from health authorities and could be postponed at their discretion.
The adjustments are expected to be lifted on January 27.
Elective surgeries, which are non-urgent or not required in the next 365 days, will be paused until mid-February, which the Premier said will open capacity as the Omicron outbreak is expected to peak in the final week of January.
Today's reported nine deaths include four women and five men aged in their 50s, 70s and 90s.
NSW Health said five were from south-west Sydney, two were from south-east Sydney, one from Western Sydney and one person from Newcastle.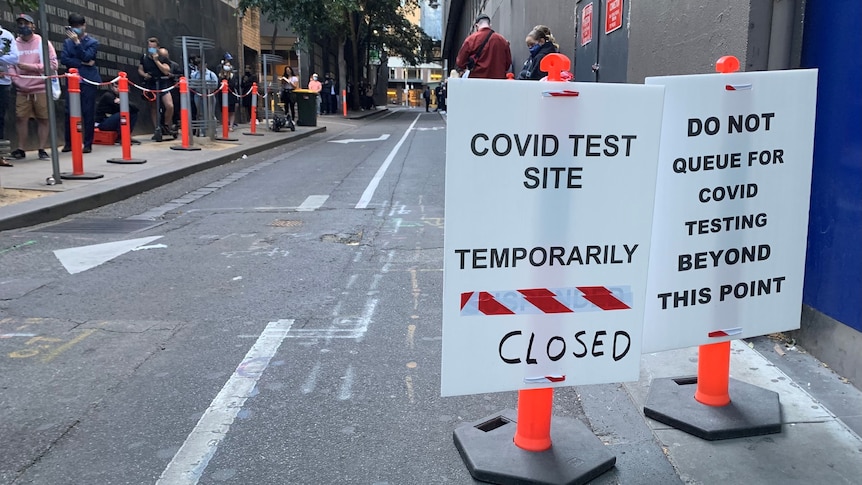 Victoria has reported 51,356 new COVID-19 cases, as health authorities begin counting positive rapid antigen test (RAT) results in daily case numbers.
Of the new cases, 26,428 were detected from rapid tests and 24,928 were detected from PCR tests.
In a statement, the Department of Health said the results included positive tests from throughout the week that were unable to be reported online until yesterday.
"Most people who reported a positive rapid antigen test got that result earlier in the week, and reported it when the webform opened yesterday. The number of people who actually received their positive rapid antigen test result yesterday was 5,923," the department said in a tweet.
Health Minister Martin Foley provided a breakdown of the RAT results, saying about 6,700 positive results were from January 6, about 5,000 from January 5, and 3,800 from January 4, 2,500 on January 3, and 1,700 on January 2 and about 620 on January 1.
Mr Foley said that while today's case tally was significant, it represented a week's worth of rapid testing.
"We don't want Victorians to think that the daily transmission has doubled overnight," he said.
"The reported figure has certainly significantly spiked based on that week's worth of unreported figures that we are now capturing in the system."
Inaccurate case numbers expected as PCR and RAT results double up
Mr Foley said it might take authorities several days to work out issues with the self-reporting system and warned that erroneously higher case numbers could be reported as RAT and PCR test results from the same person overlap.
"I suspect we will continue to see higher case numbers than actual number for the previous day for a couple of days yet while those self-reporting processes work themselves out," Mr Foley said.
The Opposition has criticised the occurrence of doubled test results and said the Andrews government was underprepared for the introduction of at-home RAT use.
"State government can't tell us what double ups there are. State government can't clearly point out to us why they can't say that," Shadow Treasurer David Davis said.
"They've had two years to plan for this. They've had two years to put systems in place, they've had two years to make sure the staffing is right."
The state recorded nine deaths in 24 hours, taking the total death toll for the current outbreak to 752.
Those who died were between 50 to 90 years of age.
As of 9am Saturday morning, there were 731 Victorians with COVID-19 in hospital and 109 patients with active and cleared infections in ICU.
The ICU figures include 22 patients on ventilators, with two patients able to be taken off ventilators this morning.
Health authorities processed 89,518 PCR tests yesterday, with 83,390 cases now active across the state.
Vaccination rollout for kids to begin Monday
Health authorities remain confident the vaccination rollout for children aged 5 to 11 will commence on Monday, despite supply issues at some regional Victorian medical centres.
About 3,500 children are currently booked to receive a COVID-19 vaccination on Monday, with 21,000 booked in for a jab in the coming week.
Victoria's deputy secretary for the COVID-19 response Naomi Bromley said 115,000 vaccination appointments are still available to be booked over the course of January.
About 15 per cent of Victorians aged 18 and older have received three doses of a COVID-19 vaccine.
There were 20,776 doses of vaccine administered at state-run sites yesterday, and more vaccinations at GP clinics and other venues.
Leading psychiatrist blames pandemic anxiety on divisive media
University of Melbourne's professor of youth mental health, Patrick McGorry, says media and health experts should take responsibility for increased public anxiety over surging case numbers.
"The media and the medical experts need to be a little bit more responsible and unified in their approach," Professor McGorry said.
"We've seen opinion from medical experts and I think the media often plays those different views off against each other rather than trying to get some common position."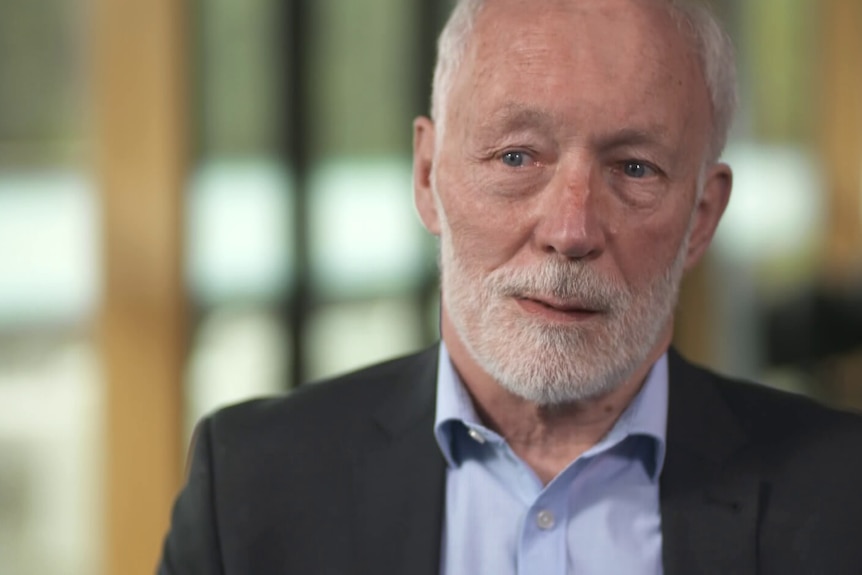 Professor McGorry said morale and mental wellbeing was an issue for the wider community, rather than an individual coping issue.
"There's a mass effect. If the messaging, as in war time and in other national crises, is not carefully managed and responsibly handled by the experts as well as the media then there are consequences to that," he said.
Professor McGorry said that, while COVID-19 had affected a large number of people, the number of people affected by mental health problems was much more substantial.
"With the calculations, we've done on burdens of disease arising from the pandemic, mental health overshadows the virus itself in its health impacts."
#AceHealthDesk report ………..Published: Jan.09:2022:
Editor says …Sterling Publishing & Media Service Agency is not responsible for the content of external site or from any reports, posts or links, and can also be found here on Telegram: https://t.me/acenewsdaily all of our posts fromTwitter can be found here: https://acetwitternews.wordpress.com/ and all wordpress and live posts and links here: https://acenewsroom.wordpress.com/and thanks for following as always appreciate every like, reblog or retweet and free help and guidance tips on your PC software or need help & guidance from our experts AcePCHelp.WordPress.Com